The prices of houses and apartments are skyrocketing these days but since there aren't many new places to build new apartments in commercial or suburban areas, most people are forced to pay more and get a smaller space just to live in the city or closer to work. Sometimes you may only have space for a set few items in your rooms and you have to get rid of the rest of your items. But if you have a barn back at home, you can use this as a storage unit and the best part? It's completely free and will not cost you anything. Another example would be if your kids are growing up and are really loud and you need a quiet, calm office space to work from. Well, if you have a barn and do not have any horses in there anymore, or even if you do, you can revamp your barn and actually make use of the extra space for many different things. Read below to know how you can revamp your barn.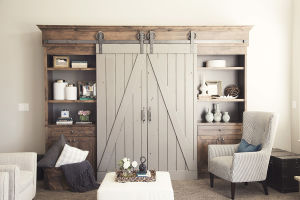 Changing the locks
If your barn has been around for a long time just like your house has, chances are all the hardware inside can be quite corroded and old. You can look for stylish barn door hardware and replace your current knobs and locks and this will give your barn doors a fresh, new, modern look.
Fixing the doors
If you plan on using this barn space as a storage unit, you will need stronger doors with quality locks so that you can be sure and be at peace knowing your valuable belongings are safely locked away. You can find several modern barn style doors online that you can purchase so you can change your current barn doors.
Adding furniture, repainting and changing the light fixtures
Working from a barn can be quite relaxing and calming because if you leave the doors and windows open, you can get fresh air circulating the space and you might even feel rejuvenated. So if you have decided to use the barn as your office, you can look into different furniture options for your outdoor office. Consider buying brighter furniture as this will add brightness and character to your space. You can install shelves for extra storage and even paint the wooden walls of the barn to further add a personal touch to your space. You can paint it white or choose a cool blue colour if you want to relax in there or use bright colours such as red and yellow to increase productivity. One more thing that you can do is to change the lighting fixtures in your barn. If you want to get fancy, you can add a rustic looking chandelier instead of using regular office lighting.